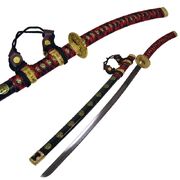 The
tachi
is a Japanese sword, often said to be more curved and slightly longer than the
katana
.
Unlike the traditional manner of wearing the katana, the tachi was worn hung from the belt with the cutting-edge down, and was usually used by cavalry. Deviations from the average length of tachi have the prefixes ko- for "short" and ō- for "great or large" attached. For instance, tachi that were shōtō and closer in size to a wakizashi were called kodachi. The longest tachi (considered a 15th century ōdachi) in existence is more than 3.7 meters in total length (2.2m blade) but believed to be ceremonial. In the year 1600, many old tachi were cut down into katana.
Ad blocker interference detected!
Wikia is a free-to-use site that makes money from advertising. We have a modified experience for viewers using ad blockers

Wikia is not accessible if you've made further modifications. Remove the custom ad blocker rule(s) and the page will load as expected.