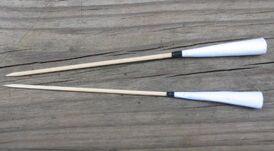 Blowgun Darts are fired out of a blowgun. The ninja would use the poison darts differently depending on the situation. It was not uncommon for the ninja to carry poison darts in his mouth so they could be blown into the enemy's face at close range. If they needed to kill someone quietly, a dart could easily enter the body and be withdrawn without leaving a mark. From a distance the dart could be shot with a blowgun. Kunoichi (female ninja) would hide the poisonous darts in their hair. When the victim was preoccupied with something else, the ninja would stick them with the dart. They can be made at home, simply by cutting small pieces of yarn, and taping them around a nail.
Ad blocker interference detected!
Wikia is a free-to-use site that makes money from advertising. We have a modified experience for viewers using ad blockers

Wikia is not accessible if you've made further modifications. Remove the custom ad blocker rule(s) and the page will load as expected.